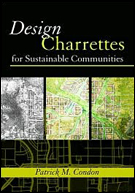 Patrick Condon is a member of the Pringle Creek planning team. His most recent book, "Design Charrettes for Sustainable Communities" is on this year's Planetizen Top 10 best books in the planning field. Congratulations Patrick. Here is what Planetizen says about it:
The design charrette has gained popularity and notoriety among many communities as a powerful tool for public participation in recent years, and this book provides a step-by-step manual to harness this power. Drawing on Condon's years of experience shaping and honing the charrette process, this book is a straightforward guide that lays out the essential steps and best practices for running a productive design charrette. His advice is equally applicable to public officials, developers and the general public – offering an insider's view into the somewhat complicated process of pushing plans forward with both transparency and an ear to the public voice.

Patrick Condon is James Taylor Chair in Landscape and Liveable Environments at the University of British Columbia. He is a leading advocate of sustainable development with focus on the nexus of environmental design and creating a strong sense of community. He has served as friend and creative advisor to Sustainable Fairview and Pringle Creek Community.
More Patrick Condon info:
His biographical info page at UBC
Streaming audio of a two-hour talk "Green Urban Infrastructure for the 21st Century (Feb. '06)